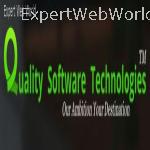 Quality Software Technologies (Thane)
An ISO 9001:2015 Certified IT Training Institute

Leading Training Institute of Thane-Mumbai, Specialized in IT-Software Training's
Providing ONLINE-LIVE & CLASSROOM Training's (IT-Courses) in a very reasonable charges with placement Support.

This is an authorized ISTQB Examination Center.


Placement:
✅1700+ IT Companies.
✅100% Placement Support.
✅Unlimited Interview Calls.

Courses:

✅Software Testing Course:
(Manual Testing, Automation Testing, Selenium Webdriver, ISTQB, Performance Testing – JMeter, Appium, Live Project, Bugzillz, Testlink, O-Sql).

✅Advanced Selenium Course:
(JAVA, Selenium Webdriver, Grid, Maven, TestNG, Log4j, BFE, Selenium Framework (Data Driven, Hybrid Driven, Keyword Driven, BDD-Cucumber), Jenkins, Live Project).

✅Python, Data Science & Machine Learning:
(Oracle-Sql, Core Python, Advance Python, Django, Machine Learning, Live Project, Data science, Artificial Intelligence, Live Project).

✅Java Programming Course:
(Oracle-Sql, Core Java & Advance Java, JAVA Framework, Hibernate, Struts, Spring, HTML & CSS, Live Project).

✅Web Development Course:
(MySQL Database, HTML, CSS- Style Sheet, JAVA Script, PHP, Bootstrap, AngularJS, Live Project).

Special Attribute:
✅100% Job Support.
✅Certified & Industry Experienced Trainers.
✅Project Based Training.
✅FREE Revision Session.
✅FREE Manuals & Books as well as Software Content.
✅Best Placement Record.
✅Fees Installment Facility.
✅Personal Attention to each candidate.
✅Weekend Batches for Working Professionals.
✅Interview Preparation Sessions.

Work Area:
✅Classroom Training
✅Corporate Training
✅Placement Service
✅Development & Testing for Clients
✅College Projects
✅College Workshop & Events




Total Views : 1607

don't forget to mention that you found this ad on Expert Web World Directory Website.
---
Certified Software Testing course in Mumbai
Contact Number: 09136008174

If number is not correct inform us.
Address: Thane

Mumbai
Maharashtra
India
400601
Website:

Phone: 09136008174

Posted Date : 21-10-2021


---